Broken Arrow High School
Class Of 1972
In Memory
Lonnie Pearson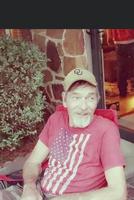 Obituary for Lonnie Pearson
Lonnie Ray Pearson was born on Sunday, June 21, 1953 in Broken Arrow, Oklahoma t Leon Meko and Verna Virginia (Keele) Pearson. He moved on to greener pastures Saturday, August 21, 2021 from Tulsa, Oklahoma aat the age of 68. Services are under the direction of Hayhurst Funeral Home.
Lonnie went to school in Broken Arrow and graduated in 1972. He met the love of his life, Lynna Fulps, when they were just kids, and they married in Miami, Oklahoma on June 29, 1981. His favorite things to do were spend time with his Lynna, his children and grandchildren, work with his cattle and play with his Yorkies. They raised 6 children together and their family continues to grow. Lonnie was a hard worker all of his life. He was Plant Manager at Pro-Quip for years, and before he retired he was Owner of Pearson Grocery & Deli located in Broken Arrow.
Lonnie was a cowboy and had a knack for training horses. He was a bull rider and when he was younger, and when not on the back of the bull, he was clowning around in front of the bulls to help keep the riders safe after dismounting. Lonnie was fond of outdoor activities. He liked to 'coon' hunt, and he loved to coach/watch his daughters' softball games, as well as his sons' sporting events, and when it came to college football – BOOMER SOONER!
In lieu of flowers the family would like donations to American Cancer Association https://www.cancer.org.
He is survived by,
Wife, Lynna Pearson of Broken Arrow, Oklahoma
Daughter, Erin Davis of Tulsa, Oklahoma
Son, Jake Kelley of Broken Arrow, Oklahoma
Daughter, Lindsey Pearson of Haskell, Oklahoma
Daughter, Lacey Pearson of Broken Arrow, Oklahoma
Son, Cody Pearson & Amber of Coweta, Oklahoma
Daughter, Misty Pearson of Houston, Texas
Grandchildren; Nikole Meier, Colt Meier, Chance Kelley, Chase Kelley, Kodie Overose, Shya Overose, Kash Overose, Ryker Coughran, Mylee Matos, Zoe Harrison, Liam Bloss, Zane Bloss, Silas Bloss, Vincent Pearson, Zac MacMoy, Luke MacMoy, Maddie MacMoy

Preceded in death by parents.
To send flowers or a memorial gift to the family of Lonnie Pearson please visit our Sympathy Store.
Upcoming Events
Viewing
AUG 26. 12:00 PM - 8:00 PM (CST)
Hayhurst Funeral Home
1660 South Elm Place
Broken Arrow, OK 74012
Visitation
AUG 26. 6:00 PM - 8:00 PM (CST)
Hayhurst Funeral Home
1660 South Elm Place
Broken Arrow, OK 74012
Funeral Service
AUG 27. 2:00 PM (CST)
Hayhurst Funeral Home
1660 South Elm Place
Broken Arrow, OK 74012
Cemetery Details
Park Grove Cemetery
1000 W. Houston St.
Broken Arrow, OK 74012